Buy a fire blanket.
In addition to a fire extinguisher, a fire blanket is good to have at hand in specific places such as a kitchen or in a canteen. You put a fire blanket over the fire to extinguish it at an early stage. The blanket is made of a non-combustible or very poorly combustible material, whether or not coated with a fire-resistant agent. Nowadays woven glass fiber (applied in several layers) is widely used. Older fire blankets from before 1992 may still contain asbestos; it is advisable to replace it with a modern one. Because the blanket takes oxygen from the seat of the fire, the fire goes out. The extinguishing agent is suitable for people who are on fire, but not for liquid or oil fires such as the flame in the pan
A fire blanket is a very easy to use extinguishing agent that requires little knowledge to extinguish a starting small fire, for example in a kitchen. Instructions for use are always printed on the holder of the fire blanket. Bolderdijk sells fire blankets. Usually these are supplied in combination with a fire extinguisher or other extinguishing agents. Or during the periodic inspection of your fire extinguishers. The fire blanket is grasped at the corners and partly wrapped around the own hands, so that the fire that is fought cannot injure the hands. When extinguishing a liquid fire, it is important that the fire blanket remains in place for at least half an hour. Do not lift the blanket too quickly because oxygen can get to the liquid, if the temperature of the liquid is high enough the liquid can ignite again. So do not check too quickly whether the fire is already out.
Why buy a fire blanket at Bolderdijk Fire Prevention? Bolderdijk only supplies approved fire blankets and extinguishers ECO / BIO foam fire extinguishers Professional and personal tailor-made advice. We think along with you! Reliable with over 40 years of experience Delivered on location Bolderdijk hangs up the fire hose reels and extinguishers for you Personal explanation about the use of the fire blanket and extinguishers
We are very flexible and have short communication lines How many fire blankets and extinguishers to buy? Bolderdijk provides free advice How many fire blankets are needed depends on a number of factors. For example, what is the risk of a fire breaking out? How big is the company in terms of surface area and the number of employees? The fire risk also determines the choice of a powder extinguisher or foam extinguisher, a CO2 fire extinguisher, foam extinguisher F for the catering industry, the F500 especially for lithium or another type of extinguishing agent. Bolderdijk gives advice without obligation! Call Mike or Cindy or e-mail us for more information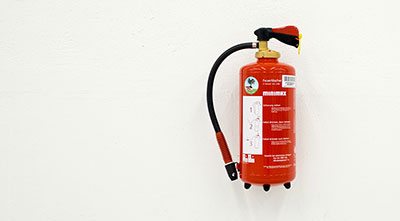 We are always available via Whats app, e-mail or telephone.
Would you like to come by?
Please call first for an appointment
Phone: 020-5491313
Mob: 06-22485737
(After opening hours)
Opening hours:
Monday to Friday
8 a.m. to 5 p.m.
Visiting address:
Bolderdijk Fire Prevention
RAI Amsterdam
Wielingenstraat P9
1078 KK Amsterdam
Mailing address:
Bolderdijk Fire Prevention
PO Box 20
1510 AA Oostzaan