Bolderdijk Fire Prevention services is located in Amsterdam. We are a professional fire prevention company, with little layers, a lot of experience and always tailored-made advice. Our services are:
 Professional fire-retardant application
 Sale of  fire-retardant impregnating sprays
Inspection-rental-sale fire extinguishers. Also for individuals
Sale of carpet and fire retardant flannel events
Emergency lighting and maintenance
Fire retardant spraying specialist A fire retardant is a substance that is used to slow or stop the spread of fire/flames or reduce its intensity. Bolderdijk is a fire retardant application specialist. Bolderdijk Fire Prevention makes fabrics and materials fire retardant. We can apply a fire-retardant treatment to a large range of items including fabrics, costumes, drapes, backdrop, carpets, wall coverings, bamboo, paper, natural twigs, christmas trees, flowers, timber and much more.In consultation Mike will come and make de fabrics or materials fire retardant on your location or we will fix it in our lab.Do you have questions? Call Cindy or Mike 
Fire Extinguisher Servicing and Fire Extinguisher Maintenance
This service contract and annual maintenance visit, includes small items, such as pins and tags. Unlike many companies, we charge for the service visit and don't rip you off on the extras! We will always give you a cost for additional units or parts prior to any work.
No additional charges! Fixed prices 
In order to ensure portable units are working properly, fire extinguishers need to be serviced on a yearly basis. This ensures that they are up to date. With a fire extinguisher that is regularly maintained, you will have fully functioning fire equipment when you need it and is therefore essential.Call Mike from Bolderdijk Fire Prevention and make an appointment for  fire extinguisher servicing and maintenance in Amsterdam, which includes equipment such as powder, water, CO2, foam and even wet chemical extinguishers.
Bolderdijk Fire Prevention Checks We shall make sure that:
Equipment is completely accessible and not blocked by anything in its way.
The pressure is at a recommended level.
The nozzle and other parts of the device are all working as necessary.
No one has interfered with the pin and tamper seal.
There are no signs of abuse or wear and tear.
We also provide a twenty-four-hour replacement service. Replacement fire extinguishers are going to cost extra.Recharges, refills, seals and new fire extinguishers can be provided by us and these include:
Associated signage
Fire blankets
Brackets
Cabinets to hold your extinguishers
Get in touch right away to request a free quotation for your Fire Extinguisher Servicing and Maintenance contract. Call Cindy: +3120-5491313. Or fill in the form below.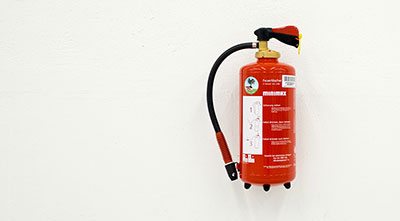 We are always available via Whats app, e-mail or telephone.
Would you like to come by?
Please call first for an appointment
Phone: 020-5491313
Mob: 06-22485737
(After opening hours)
Opening hours:
Monday to Friday
8 a.m. to 5 p.m.
Visiting address:
Bolderdijk Fire Prevention
RAI Amsterdam
Wielingenstraat P9
1078 KK Amsterdam
Mailing address:
Bolderdijk Fire Prevention
PO Box 20
1510 AA Oostzaan