Do you need one or more fire extinguishers for your home, company or institution? Bolderdijk sells and rents out(foam, ABF foam, powder or CO2) fire extinguishers and installs them at the desired location for you. Bolderdijk also supplies ECO / BIO foam fire extinguishers, which are fire extinguishers filled with environmentally friendly extinguishing foam. And that for just a few Euros more.Fire extinguishers are required by law in all buildings that are publicly accessible. Think of shops, restaurants, museums, hotels, B & Bs, offices, business premises, production areas, event spaces (also temporary), student houses and apartment buildings. Fire extinguishers are not required by law in a private home. However, they are recommended to be optimally protected against fire.After purchasing fire extinguishers, it is advisable to have your fire extinguishers inspected and maintained. Bolderdijk is happy to provide this service, with good advice for your specific situation.
Why buy a fire extinguisher at Bolderdijk Fire Prevention? 
Bolderdijk only supplies approved fire extinguishers
ECO / BIO foam fire extinguishers
Professional and personal tailor-made advice. We think along with you
Reliable with over 40 years of experience
Delivered on location
Bolderdijk will install the fire extinguishers for you
Personal explanation about the use of the fire extinguishers
We are very flexible and have short communication lines
How many fire extinguishers to buy? Bolderdijk provides free advice
How many fire extinguishers are needed depends on a number of factors. For example, what is the risk of a fire breaking out? How big is the company in terms of surface area and the number of employees? The fire risk also determines the choice of a powder extinguisher or foam extinguisher, a CO2 fire extinguisher, foam extinguisher F for the catering industry and kitchens, the F500 especially for lithium or another type of extinguishing agent. Bolderdijk gives advice without obligation! 
Have your fire extinguishers inspected by Bolderdijk Fire Prevention
Fire extinguisher inspection is mandatory in the Netherlands. If you do not do this, you may be liable for the damage after a fire. Bolderdijk Fire Prevention carries out these fire extinguisher inspections. We are a REOB and CIBV certified company.Bolderdijk Fire Prevention offers inspections for various extinguishing agents:
Portable fire extinguishers according to NEN 2559
Fire hose reels according to NEN EN 671-3
Mobile fire extinguishers according to NEN 2659
Bolderdijk Fire Prevention carries out the annual maintenance and extensive inspections for you. You have also come to the right place for overhaul and refilling. The maximum usage time of a fire extinguisher is 20 years.Call or e-mail us for more information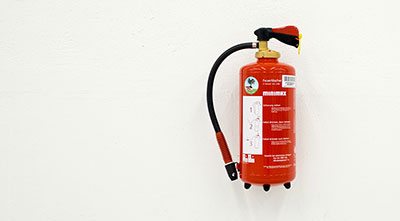 We are always available via Whats app, e-mail or telephone.
Would you like to come by?
Please call first for an appointment
Phone: 020-5491313
Mob: 06-22485737
(After opening hours)
Opening hours:
Monday to Friday
8 a.m. to 5 p.m.
Visiting address:
Bolderdijk Fire Prevention
RAI Amsterdam
Wielingenstraat P9
1078 KK Amsterdam
Mailing address:
Bolderdijk Fire Prevention
PO Box 20
1510 AA Oostzaan