Smoke detectors requierd
Every storey of your home must be equipped with a smoke detector. Your house must have a smoke alarm on each storey from 1 July 2022. This way you will be alerted more quickly in the event of smoke or fire.Bolderdijk Fire Prevention supplies, installs and checks smoke detectors at companies and properties With a smoke detector or fire alarm you will receive a warning in time if a fire starts in your home or company.
When buying a smoke detector, you pay attention to several things. For example, you can use the linkable smoke detectors to create a fire-safe system in your home. You connect these smoke detectors to other copies, so that they respond to each other. Pay attention to the power supply when you buy a smoke detector. There are smoke detectors on batteries, smoke detectors with a built-in battery and smoke detectors that use mains power.
Bolderdijk Fire Prevention has all smoke detectors in stock. All our smoke detectors meet the Dutch inspection standards.Protect yourself and your family from the dangers of fire with our smoke detectors In addition to smoke detectors, first aid kits and emergency eit icons, Bolderdijk is also specialized in the inspection, revision and refilling of fire extinguishers.
Bolderdijk Brand Prevention from Amsterdam has been the company for impregnating fabrics and decorations since 1968 and checks impregnated materials by third parties. You can also contact us for the sale of event carpet. We also sell fire extinguishers, extinguishing agents, emergency exit fixtures, fire hose reels and fire blankets.
Why choose Bolderdijk
Make an appointment quickly

Competitive prices

Family business with short lines

Certified and REOB recognized
Do you have questions about smoke detector control? Fill in our contact form. We always respond quickly!
 Bolderdijk works in Amsterdam, Utrecht, Haarlem, Amstelveen, Hoofddorp, Purmerend, Zaandam, Wormerveer, Wormer, Oostzaan, Landsmeer, Assendelft en Aalsmeer. But we are also happy to be of service beyond that. In short, the whole of the Netherlands, Belgium and beyond.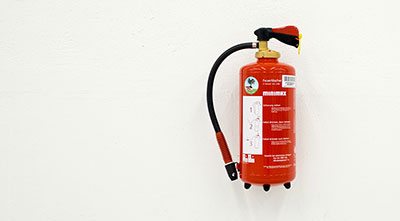 We are always available via Whats app, e-mail or telephone.
Would you like to come by?
Please call first for an appointment
Phone: 020-5491313
Mob: 06-22485737
(After opening hours)
Opening hours:
Monday to Friday
8 a.m. to 5 p.m.
Visiting address:
Bolderdijk Fire Prevention
RAI Amsterdam
Wielingenstraat P9
1078 KK Amsterdam
Mailing address:
Bolderdijk Fire Prevention
PO Box 20
1510 AA Oostzaan